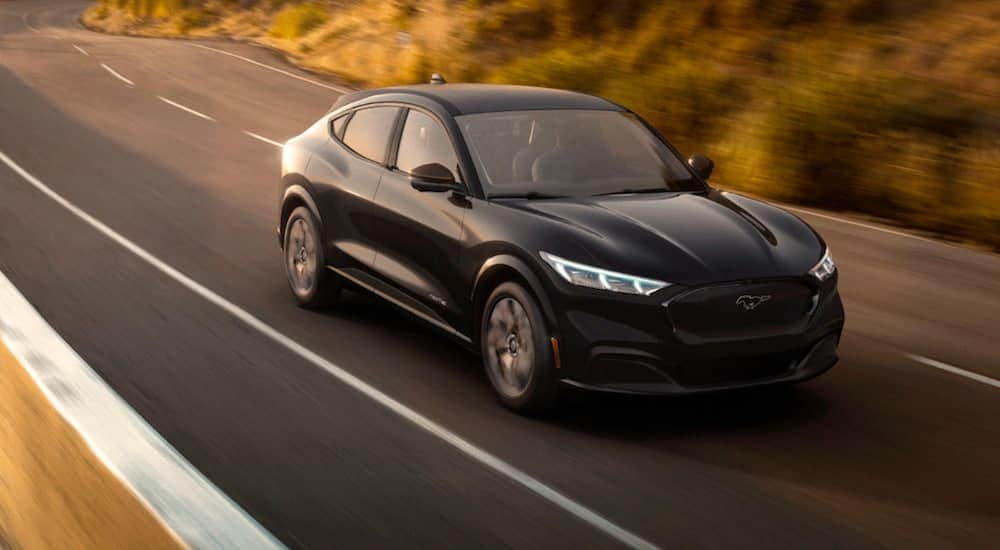 Ford has also been working to build the largest electric vehicle charging network in North America while moving to make all Ford vehicles in Europe emissions-free by 2026. But what does this mean for you? What are the benefits of driving an EV? I'm sure many of you have noticed that the price tags on EVs and hybrid vehicles are larger than similar models with conventional internal combustion gas engines. So why pay the higher initial amount upfront in buying an EV?

At Gengras Ford, we can show you that buying an EV like a Mustang Mach-E will save you money in the long run by reducing your out-of-pocket costs for fuel. An EV will require less maintenance, also saving you money, and will have zero emissions, so you will have no problem with future inspections. In addition, there are potential tax credits in owning an EV. EVs also have roomier and quieter interior cabins as well as improved safety features. We are proud to be able to offer you the opportunity to be at the head of the pack in moving to an electric, emissions-free future with the new electric vehicle offerings coming from Ford.
EVs Have Lower Costs to Maintain
When you buy a car with a conventional gas engine, your expenses don't stop with the initial purchase price. First of all, you are going to have to pay attention to fluctuating gas prices, knowing that the slightest changes could send prices spiraling upward, costing you more money. While there have been periods of low prices, in general, gas prices have consistently trended upward.
Second, there are so many working parts in an internal combustion powertrain that you will need to get your car serviced about every 5,000 miles. This means an oil change and oil filter change, as well as the need for additional fluids like your transmission fluid. Also, the longer you own the car, the more frequently you will need to change the oil and other key fluids or replace broken parts.
Buying an EV will save you money in two ways. First, you will no longer have to pay for gas. Instead, you can safely and conveniently charge your EV's battery at home or at any of a number of charging stations that have been popping up all over the United States faster than mushrooms after a rainstorm. Ford has been doing its part with the FordPass Charging Network, the largest public charging network in North America offered by an automaker.
You can also have the convenience of charging your EV at home with either a Level 1 (120 volt) or Level 2 (240 volt) charging station. Ford includes the Ford Mobile Charger with every Mustang Mach-E that makes it easy to charge your Ford EV either at home or on the road. There is also an available Ford Connected Charge Station that will make charging at home even easier with the 20-foot lightweight cord. Either way you go, you won't have to waste time waiting in line at service stations. You can sleep while your EV charges.
EVs also have fewer moving parts than other types of vehicles. The electric motor is simply powered by the EV's battery. Not only is this type of engine incredibly efficient, using between 60% to 100% of the energy produced from the battery as compared to about 12% energy efficiency on a gas engine; it is also a simpler machine. Say goodbye to all those costly and annoying oil changes. While you will still have some routine maintenance, the total number and cost will be greatly reduced with an EV, allowing you to realize great savings over time.

The Future Is Now With an EV
All the trends show that EVs are the future of the automotive industry in America. The Federal Government is pushing for tougher emission standards, while automakers like Ford are taking the lead in producing newer and more innovative EVs like the Mustang Mach-E and the infrastructure for EVs like public fast-charging stations and hands-free driving highways. You can be a part of this future by making your next car an EV. Stop by our dealership and learn all about the new EV offerings from Ford so you can drive into the future in style.