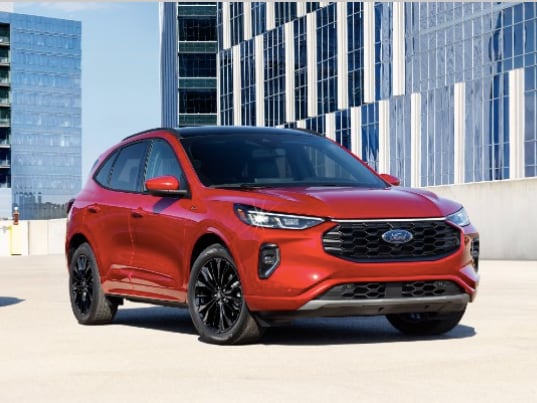 2023 Ford Escape updates and enhancements
What updates did they make to the 2023 Ford Escape? The Ford Escape has had a thorough makeover for the 2023 model year, with a new ST-Line, a new available touchscreen, and new safety features.
2023 Ford Escape – new ST-Line trim level options
The sport ST-Line series is offered in three trims, the ST-Line, ST-Line Select, and ST-Line Elite. All ST-Line models stand out with black grilles, unique rear skid plates, and a large single-wing rear spoiler. Inside, they have an Ebony cabin with red stitching throughout. There are a few differences between the three models worth noting:
The ST-Line

has a 1.5 L EcoBoost engine targeting 180 horsepower. It's a front-wheel drive model with available all-wheel drive. There's also an available hybrid option with FWD.

The ST-Line Select

offers a 2 L EcoBoost engine targeting 250 horsepower. It has standard all-wheel drive and an available hybrid option. ST-Line Select models are available with 19-inch Machine-Faced Ebony Painted aluminum wheels.

The ST-Line Elite

is the same as the ST-Line Select in terms of powertrain. ST-Line Elite models come standard with the 19-inch wheels available for the ST-Line Select. Furthermore, ST-Line Elite models have an available "coast-to-coast" LED light bar that sets them apart.
2023 Ford Escape – new touchscreen display
The new infotainment system for the 2023 Ford Escape is an available 13.2-inch display. It now offers SYNC 4 technology as well as available built-in navigation and Alexa Built-In. Here's a look at why you'll love this technology.
Integrated standard wireless Apple CarPlay and Android Auto

make it easier than ever to connect to your phone.

Available Enhanced Voice Recognition

helps with hands-free controls.

Available Connected Built-In Navigation

updates you with the latest traffic information.

An integrated digital owner's manual

provides vital vehicle information.

Ford Power-Up over-the-air software updates

keep your software updated without hassle.

Alexa Built-in hands-free

is complimentary for up to three years on eligible models.
?
2023 Ford Escape – advanced driver-assist features
Safety has always been a priority for the designers of the Ford Escape. So, what's new this year? You now have Intersection Assist 2.0 and Blind Spot Assist. The updated Intersection Assist helps drivers avoid collisions while turning. Blind Spot Assist can detect vehicles and motorists in your blind spot.
Will the 2023 Ford Escape come in a hybrid model?
In case you're wondering, the 2023 Ford Escape will come in a hybrid model as well as a plug-in hybrid model. These models are a great way to save on fuel and emissions. These are not new to the Ford Escape lineup, but we love to see them back for another model year.