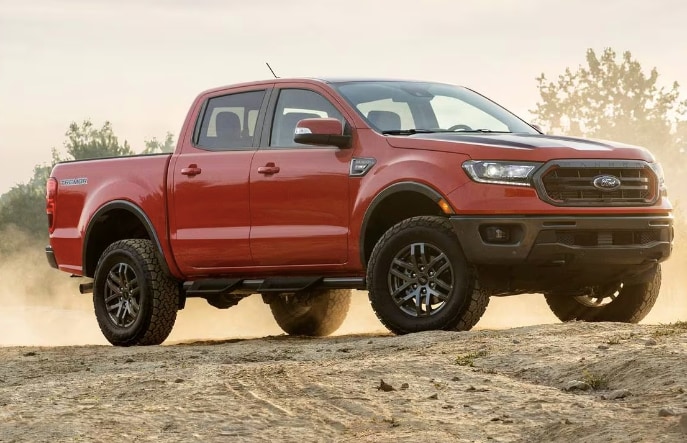 The Mid-Size Battle Of Epic Capability
Looking for a new and rugged mid-size truck and questioning what's better between the 2022 Ford Ranger vs Toyota Tacoma? Not to worry, as today, we'll let you know which ride stands out for the specs and features you care about. Also, feel first-hand which pickup reigns supreme by visiting us at Wood Motor Ford in Jane, MO, and test driving the 2022 Ford Ranger today.
Power On Demand: Which Pickup Offers More
Whether you need your pickup for business or pleasure, the 2022 Ford Raptor has you covered with a base 2.3L EcoBoost® I-4 across all models, which packs spirited 270 horsepower and 310 lb-ft torque, perfect for helping you get up and moving on the local highways —especially since you'll cruise with up to EPA-estimated 26-highway mpg to help keep your rides affordable with minimal refuel interruptions in between. Need to haul a heavy load? With a towing capacity of up to 7,500 pounds across all 2022 Ranger models, you move ATVs, dirt bikes, trailers, and much more with ease.
By comparison, the 2022 Toyota Tacoma also aims to supply you with exhilarating and capable rides—but with a base 2.7L 4-cylinder motor with 159 horsepower and 180 lb-ft torque, the 2022 Ranger packs nearly double the power—and you'll feel the difference with a towing capacity of 6,400 lbs, which is still strong—but the 2022 Ranger offers 1,100 more lbs, which could be the difference between hauling certain trailers for work or campers for your weekend escapes. Also, with up to EPA-estimated 23 highway mpg., the 2022 Ranger also helps keep your rides more affordable and takes you further on your cruises before needing to refuel, making a truck built for commutes and adventures, granting the Ford pickup a win for performance.
Space For Fun And Comfort: Step Inside
Make yourself comfortable inside the 2022 Ford Ranger—it's easy with up to 34.5 inches of rear legroom and 43.1 inches of front legroom in SuperCrew® models, helping your tallest friends and family members join along with the ride with ease. Plus, that's on top of a pampering cabin loaded with available features like Dual-Zone Electronic Automatic Temperature Controls, up to an 8-inch touchscreen, and vinyl-trimmed bucket seats to help with your messiest cruises.
Similarly, the 2022 Toyota Tacoma also offers a comfortable interior with up to an 8-inch touchscreen and available dual-zone automatic climate controls. However, with only 32.6 inches of rear legroom and 42.9 inches of front legroom, the 2022 Ford Ranger inches ahead for this round for offering more room for your passengers to kick back with minimal cramped feelings.
The Ultimate Mid-Size Truck Awaits
Still wondering: Is the Ford Ranger better than the Toyota Tacoma? Find the answer yourself by heading to Gengras Motor Ford and test driving the 2022 Ford Ranger.